This post may contain affiliate links. If you click through and make a purchase, I may receive a commission (at no additional cost to you). What does this mean?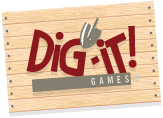 I was excited when I was asked to review
Dig-It! Games
app called
Mayan Mysteries
because I was looking at getting it for my boys before.
I let Austin review this since Cameron reviews most of the other things. So I figured I would give him a chance. Plus it's a change in what he usually plays, this is an educational game.

What we received
We received an online computer game to review which can be played on either a Mac or Windows computer, and they even have an Apple app!
How we used the game
Since Austin really liked it, he played it pretty much every other day since I didn't want him to get burnt out on it too quickly.
Since it's an online computer game, you have to start by signing in. Then after that you pick if you want to play a new game or resume a previous game. Next, you are taken to the main map, here is where you get to pick where you would like to travel to. The game has different places to travel each containing facts about the Mayans. The game also has different mini games that they play to progress into the next stage. The games include; a riddles game, a hidden object game, quizzes, and math games to name a few.

What we liked/disliked about the game
I really didn't find anything wrong with the game, maybe not having to sign in everytime to play it would be nice, but other than that there was plenty to like.
I liked all the mini-games there were to play. Austin had plenty to keep him busy. Out of all the games, he said that the hidden object game was his favorite. He also liked how he got achievements each time he passed a game.
I liked all the Mayan facts that the game contained. He got to play games and got to learn about Mayans as well. It was also nice how there is an Apple app to play the game on too, in case we have to travel or go somewhere that takes quite a bit to get there.
I liked how I could put him on the game and not have to worry about the content, him seeing something that he's not supposed to. I loved that it had full-screen, this way he wouldn't get distracted by anything else on the desktop and he could get into the game and pay attention.
I liked how there was a story component, it wasn't just a game, so there were math and reading involved. One of the cool parts is that in certain places they would read a passage and then click next and then it looked like a game board, each time they answered a question right their truck would move a space, if they got it wrong the bad guys truck would advance towards them. The object was to reach the finish line before the bad guys caught up to them.
Check them out and tell me what you think.