This post may contain affiliate links. If you click through and make a purchase, I may receive a commission (at no additional cost to you). What does this mean?
Our latest review includes 2 family board games from USAopoly called Wonky and Tapple. Both of which are pretty fun and perfect for family game nights!
What did we receive
Our family received 2 physical family board games by USAopoly in the mail.
How did we use it
The first one, Tapple seen in the below image: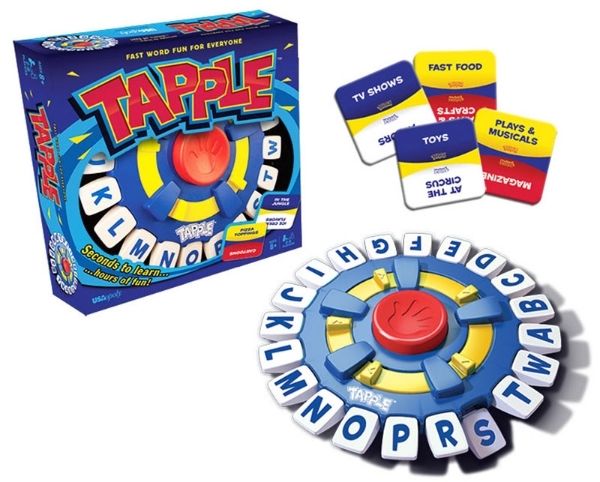 This game was very fun. The object of the game is to use each of the letters on there to say a word that will be on a card that someone picks. As you can tell from the image that some letters are missing, I found those to be the ones in which I came up with words for, but couldn't use them 🙁
For the most part it is battery-operated, the yellow part is like a timer, ticking away the seconds until your time is up. As far as the cards go, the red and yellow side is harder like for adults to use and then the white and purple side is more kid-friendly words in other words easier.
The goal is to be the last player standing.
To play, the tallest goes first (that's a new one) picking a card and then they'll tap the red circle (which starts the timer) and they use the letters and call out the word, then they tap the red button again. This signals the next person to go, and so on and so on, until someone gets hung up on a word and the timer goes off, then they are out.
The other game is called Wonky, seen below:
Now this game was interesting!
The object was to not have any cards left, but you couldn't go out with a magic card. Each person takes a turn using their cards that they were dealt, stacking the tower, and trying not to let it fall. If it fell then that means they're out.
The game comes with 3 of the colors you see in the image; 3 purple ones, 3 greenish-yellow ones, and 3 blue ones. A small, medium, and large block. It also comes with the cards needed for play. The hard part is that the blocks aren't flat, they are shaped in a way that they can just slide off one another, so it was quite challenging.
What did we think
We had a blast playing both games. I'm glad that we received them as they were great family night games. As soon as we received them the boys wanted to play them. So we waited until our usual family day on Sunday and played both games. I wish that Tapple would have come with batteries already, but we found some around the house and used it anyway. Wonky doesn't require batteries, so we're good to go. Now that schools started back up, it's hard for us to sit down and relax, but I'm thinking we'll play them this Sunday now that hubby will only have off on Sundays now.
Tapple was kind of hard in the beginning because we thought we knew how to play until we read the directions and learned to play it the right way. 😀
Wonky was again quite challenging because the blocks kept falling over, so we had to start all over again.
But all-in-all the boys had a blast, and that's all that matters.
P.S. Christmas is right around the corner, these would make great presents!