This post may contain affiliate links. If you click through and make a purchase, I may receive a commission (at no additional cost to you). What does this mean?

I like my boys to have experiences with different languages, so I was grateful for the opportunity to review
Middlebury Interactive Languages
and their course
Middle School Spanish I
.
What did we receive
This is all online so there's no downloading to do. So we received access to 1 online semester which is 6 months long. They also have French, German, and Chinese courses but in my personal opinion Spanish is the easiest to start learning when you're trying to learn a new language.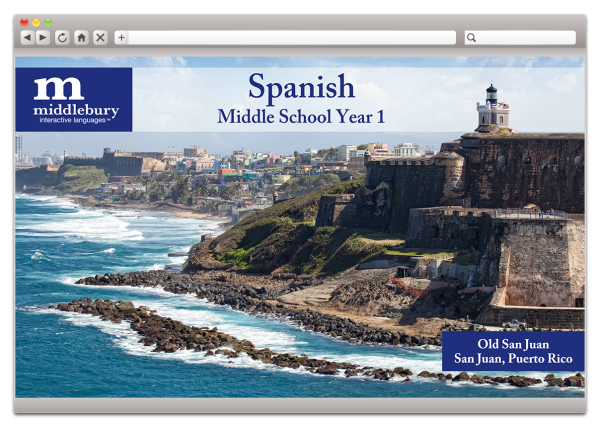 How did we use it
We were to use this 3 times a week. Every Semester has 9 units including the Midterm and Final. Each of the Units have 10 lessons except for the Midterm and Final which have 5 lessons. Each Lesson is broken down into Warm-up, Matching, and then a Speaking Lab. Some even have Synthesis: Listening, Reading, and Writing.
Units and Lessons
The Warm-up consists of seeing the word, hovering over the word to see what the word means, and then clicking on a button to hear the word spoken.
Matching is pretty self-explanatory. They will be dragging the words to the right picture of the definition.
The Speaking Lab is where it gets interesting. In this section they will see the word and right beside they can click to hear how the word is spoken, and then right beside that is a microphone button where they can click and be recorded saying the word. After they are recorded there is a little "x" that appears so if they're not happy they can delete the recording and start over.
Synthesis: Listening and Reading has them listening to and reading a conversation and then dragging the right word to the right place in the conversation. This isn't until lesson 2 so they have time to study.
Synthesis Listening, Reading, and Writing goes a step further than the previous one. In this section they will be listening to and reading the conversation, but instead of dragging the correct word into the correct spot, they will be writing the correct word. This isn't until lesson 3 so they'll have time to study. After lesson 3 there are more sections added to each unit.
Starting in lesson 5 there are pop quizzes and quizzes on reading and writing.
Midterm and Final
The midterm section contains 3 lesson Review Plans. Lesson 4 contains Grammar and Vocabulary and then 2 writing part sections. Finally, Lesson 5 contains Reading and Listening Comprehension, and then 2 speaking part sections.
What did we think
Middlebury Interactive is so full of features it was hard to find anything wrong with it. The only think that I would suggest as far as the Calendar feature goes (it lists two units a day) that we could drag and move the assignments to different days if we miss a day for appointments and sick days. I like that there's a Gradebook where you can see all the grades listed. It also has a nice Notifications feature so you know when there is an assignment that needs to be checked. I loved how it was so complete. In my opinion they didn't leave anything out!