This post may contain affiliate links. If you click through and make a purchase, I may receive a commission (at no additional cost to you). What does this mean?
A different kind of review for me. This is a Christian movie with romance and humor, just what I like. The movie is called
When Calls the Heart, Heart of the Family
by
FishFlix.com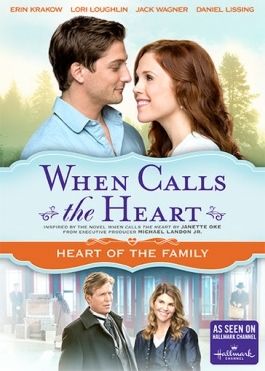 What did we receive
I received a physical dvd in the mail. It has the movie of course, but also includes bonuses, which include an interview with one of the cast members and then plenty of trailers for upcoming movie releases.
From looking at the website, this movie is part of Season 2. They have season 1 also, some are episodes and some are in movie format. They also have a $5 Movie Winter Sale going on. Besides movies, they also have music videos and educational videos as well.
They even have the What's in the Bible movies and some Kids Bop music videos.
How did we use it
We watched this as our family movie. I couldn't believe how Austin, my youngest, was so involved! He would say "oh, this is probably going to happen" or "that is probably going to happen." Then, he was laughing along with the funny parts. Like when the girls' dress gets messed up twice! Even Cameron and Hubby were laughing. It was nice to hear everyone laugh.
The movie was about a rich woman turned homesteader, trying to make it in a country type setting as the only school teacher. It is set in Canada with mounted police and old cars. The movie stars Lori Loughlin, you might remember her from Full House as Aunt Becky. There's humor, romance, and suspense.
What did we think
I really liked how everyone was so formal, not how everyone is in today's world. I also liked how I didn't have to worry about what my boys would see while watching it. Nowadays on tv, if you're not watching cartoon channels your bound to see something that you wouldn't want your kids to see. Between cussing and violence, it's hard to find something as awesome as this movie was. There was barely any kissing and of course there wasn't any bad language. There was few guns but just in the last half of the movie, not all throughout.
Seeing all the old cars was pretty neat, I've never seen so many before, except at car shows.
I liked seeing Lori Loughlin in there, I don't think I've seen her in anything since Full House. It's nice that she went the Christian movie route with her career.
I didn't think my boys would like it since it is that sappy, romance kind of movie, but they did pretty good. Austin asked if it was mine to keep, I guess he wants to watch it again. 🙂
I love how FishFlix.com who is owned by Lukas Media, is a family owned business, which means that they care what the customers think and are always looking for family movies.
I'll definitely be checking out what other movies FishFlix.com has to offer.